December 02, 2021 - by commARCH
Send this article to a friend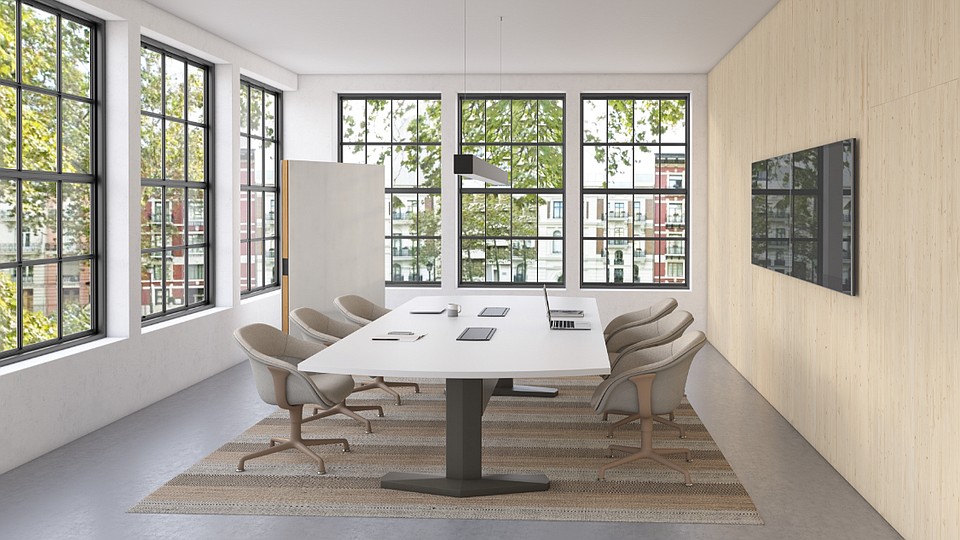 In most workspaces, regardless of industry, two things are true:
Workers are increasingly dependent on technology and power to get their work done effectively

Collaboration between teams is a key to solving problems and reaching competitive breakthroughs
There's no separating these two realities — they're bound together. Technology is a key vehicle for collaboration, and collaboration is a key driver of innovation — they are the two main tools of modern work.
In order for businesses to properly support their employees in this way, they need to provide office destinations that encourage team members to engage with both each other and technology — while also providing adjacent spaces for focus and rejuvenation.
Coalesse offers three space types that work to meet business's needs.
Integrated Conference Room
Coalesse's E-Table 2 Conference Table shown above has power and data outlets integrated into the tabletop, so team members don't have to worry about tripping over cords when they jump from their chair to illustrate an idea at the whiteboard.
The ideal tech-enabled conference room also provides a big screen wall display for screen sharing, presentations, and videoconferencing. Advanced AV technologies make team meetings and remote collaboration easier.
Maker Commons
When Steelcase and Microsoft joined forces to explore the future of work, they introduced a series of technology-enabled Creative Spaces that mirror — and encourage — the new ways people are working.
One of these spaces, the Maker Commons, is a warm, communal setting with both lounge and perch seating, plus fixed and mobile technologies that support solo and group work. It's the perfect space for collaborative teams because it intentionally blends furniture and technology in ways that let creative work unfold more naturally.
Spaces like the Maker Commons make it easy for people to switch between conversation and experimentation alongside their teammates. This Creative Spaces Maker Commons features the slender Potrero415 Light Table and a Montara650 Stool beside the wall-mounted Microsoft Surface Hub, an interactive multimedia whiteboard.
Enclaves Of course, employees don't need to be connected all day, every day. Unplugging from ever-important tech tools is part of the rhythm of work, too. Enclaves with integrated power put individuals in charge of their alone time, letting them charge devices while recharging from the day. The Lagunitas Lounge System designed by Toan Nguyen for Coalesse offers built-in power options and versatile privacy screens so you can create personal enclaves.
Creating different types of spaces for different types of work and times of the day is part of a strategy to provide what the Coalesse global design director, John Hamilton, describes as "a plurality of settings that give employees the choice over where, how and with whom they want to work at any given time, based on what they're trying to accomplish."
Where can I learn more?
For more ideas on integrating technology and creative collaboration in office design, visit 
https://www.coalesse.com/blog/technology-collaboration-cant-have-one-without-the-other-2/ and Coalesse's Inspiration Gallery https://www.coalesse.com/inspiration/gallery/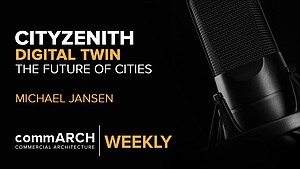 CityZenith's Michael Jansen on Digital Twin & the Future of the Urban Environment | commARCH Weekly 07/2020
In this episode, commARCH has a dialogue with Michael Jansen, Founder and CEO of CityZenith, to discuss the burgeoning landscape ...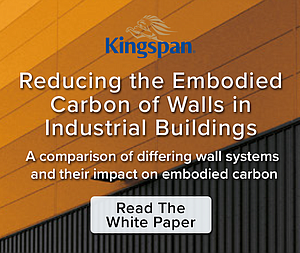 Reducing the Embodied Carbon of Walls in Industrial Buildings
Kingspan partnered with Kieran Timberlake to quantify how Kingspan can reduce embodied carbon in industrial buildings.