December 13, 2021 - by John Lisankie
Send this article to a friend
Travis Scott is once again in the news this week for actions related to the tragedy at his Astroworld Festival on November 5th. In an interview released on Thursday, he chatted with The Breakfast Club's Charlamagne Tha God going over what went down that night from his perspective and where they go from here. In my eyes, and I'm sure many others share this perspective, it was way too soon to be doing an in depth interview like this, the tragedy happened barely one month ago. It also was not the greatest idea having someone like Charlamagne conduct things, while he is known as someone who constantly pokes and prods interviewees to get controversial responses. 
Travis essentially denied all responsibility, which was to be expected, and really did not provide many answers that people were not already aware of. He seemed uncharacteristically nervous throughout the interview, knowing that his career is on the line. The nerves especially presented themselves in Travis' repetition of his words throughout the fifty minute ordeal, saying "you know" 271 times. Like I have said before, I do not see his career ever coming back to where it was before November 2021.
He was also dropped from headlining Coachella in April, even after supposedly offering to perform his set for free. It is clear that he has become far too much of a liability to festivals, whose entire reputation can be made or broken by safety issues like those that happened at Astroworld. 
Finally, his line of hard seltzer, Cacti, was discontinued, not because it did not taste good at all (which is true), but purely because of who it is associated with. This incident will forever taint his career and cost him millions upon millions of dollars for the rest of his life.
Another Houston artist was in the news this week, though in a much more positive light. Megan Thee Stallion graduated from college over the weekend, joining a growing list of hip hop artists who have received degrees. With a Bachelor's Degree in Health Administration from Texas Southern University, Megan walked the stage to massive cheers from friends, family, and fans alike.
Some other positive news that came from this week is the announcement straight from Kid Cudi that he plans on releasing two new albums in 2022. One had already been expected to be released along with his upcoming Netflix show Entergalactic, with the album being called the same. However, he said during his performance at Rolling Loud California that he wants to release a project before then. There is lots to be excited about these days as a Kid Cudi fan.
Juice WRLD's second posthumous album, Fighting Demons, was released on Friday, two days after the second anniversary of his sudden death, and eight days after what would have been his 23rd birthday. To be completely honest, after my first listen, I had some rather neutral feelings regarding the product that Juice's estate put together. Obviously, it just felt like a bunch of songs thrown together rather than having some sort of concept, so that was disappointing but expected. There were not any tracks that stuck out to me as going to do extremely well on the charts, unlike his last album, Legends Never Die, which had "Wishing Well". Nevertheless, I would recommend giving it a listen, as this could be the last collection of songs we get from Jarad Higgins.
Kanye West and Drake officially squashed their years long beef on December 9th when they put on a benefit concert and campaigned side by side for the release of Larry Hoover, one of the most bloodthirsty gangsters to walk the streets of Chicago. The fact that two of the biggest names in music are trying their darndest to get a murderer who is serving six life sentences in one of the highest level security prisons in the world back out onto the streets just confuses me to no end. There has been some speculation that Kanye had been trying so hard to secure Hoover's release in an effort to salvage his crumbling marriage to Kim Kardashian, who has long worked on getting some prisoners around the country exonerated. Either way, it was just nice to see Kanye and Drake side by side once again, looking very happy.
In other Aubrey Graham news, a longtime outspoken critic of the Grammy Awards, Drake withdrew his name from consideration for the 2022 awards, for which he had been nominated in two rap categories. This is a rather unprecedented move, making it clear to the show that they need to get it together or many other popular artists will begin following the example of one of the biggest names in music today.
This week, Cordae decided to capitalize on the hype that has surrounded his most recent track, "Sinister", which features Lil Wayne, by announcing that his sophomore album will be released on January 14th, 2022, about a month from now. From a Birds Eye View seems to be headed in the right direction for Cordae. While doing well for himself as far as 2019's The Lost Boy goes and dating Naomi Osaka, the Maryland wordsmith has faced criticism from many, including myself, that his music is rather bland and doesn't take risks. I hope he proves all of the naysayers wrong, music improving is fantastic news for artists and fans alike.
Also announced for release on January 14th is Earl Sweatshirt's fourth studio album and first since 2018's Some Rap Songs. Entitled Sick!, it will be Mr. Sweatshirt's first non-single release since his 2019 EP Feet of Clay. Earl is one of those rappers who is constantly switching up his style and sound, experimenting with his versatility, which is something that I can always appreciate.
Along with the announcement of the ten song album was the release of its second single, "Tabula Rasa" which features Armand Hammer, along with the track's music video. I definitely do not like it as much as I did "2010", the lead single, but it is still so far ahead of the music most artists have been putting out lately. It's quite rare that Earl puts out any material with very little substance, so be on the lookout for Sick! and listen to his discography in preparation.
Other artists that released projects on Friday included Rick Ross, Pi'erre Bourne, A Boogie wit da Hoodie, and Russ. I have not yet listened to any of them, but I'm not often disappointed by this crop of rappers, so be ready for quality tunes if you plan on providing a listen.
Compton rapper Slim 400 was shot and killed late Wednesday in Inglewood, California. Another talented name gone far too soon, at just 33 years old. He had previously been shot nine times in 2019 but survived. His death is currently being investigated as being gang-related.
Rod Wave worried his fanbase this week with the release of a new song, "Nirvana", in which he emotionally raps about his trauma and thoughts of suicide, which was followed by his deleting social media accounts. Obviously, many thought that he was planning to soon take his own life, but he soon cleared things up and said that he never meant for his words to be perceived like that, and that it was actually for suicide prevention more than anything.
I saw a YouTube video this week that was one of the most entertaining pieces of media I think I have ever seen. Andrew Callaghan of Channel 5 News, formerly All Gas No Brakes interviews budding recording artist and street legend Crip Mac, who in the past had been interviewed by Adam22 of the popular podcast No Jumper. The man is one of the funniest characters, intentional or not, that I think has ever existed.
Going from one Mac to another, I want to bring your attention to a video that I saw for the first time this week that really is a must watch. It shows the entirety of Mac Miller's final performance on August 4th, 2018, just 34 days before his tragic death. Watching it now while knowing his fate is so chilling and very sad; but it is so important to continue to appreciate the talent that he had.
My favorite music video this week was Rae Sremmurd's "Powerglide", which features Juicy J. I remember hearing this track for the first time when my friend put it on the morning following a night out, and hearing it made me feel invincible. Just when I thought it couldn't get any better, I watched the music video. You should do the same.
Just over five years ago, on December 9th, 2016, Post Malone's debut studio album Stoney was released. While not initially super well received by critics, it has since aged like fine wine, with multiple hits coming from it, including "Congratulations", "I Fall Apart", "White Iverson", "Too Young", "Feeling Whitney", and my personal favorite "Go Flex".
This week's top song was Jack Harlow's "Dark Knight", where a clean shaven, nineteen year old Harlow absolutely goes in on what would turn out to be his first hit; it's been in my head all week.
I want to introduce this week a playlist of the 100 songs that have been getting me through the last three months, to be updated weekly. Presenting
 commARCH's 100 in Rotation
.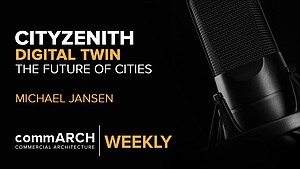 CityZenith's Michael Jansen on Digital Twin & the Future of the Urban Environment | commARCH Weekly 07/2020
In this episode, commARCH has a dialogue with Michael Jansen, Founder and CEO of CityZenith, to discuss the burgeoning landscape ...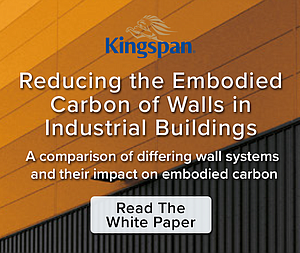 Reducing the Embodied Carbon of Walls in Industrial Buildings
Kingspan partnered with Kieran Timberlake to quantify how Kingspan can reduce embodied carbon in industrial buildings.