October 12, 2021
Send this article to a friend
An American dining icon has been reinvented for the 21st century with the opening of Automat Kitchen in Jersey City, NJ in early 2021, featuring a chef-curated menu of modern comfort food made to order and a technology-driven contactless experience that fits diners' needs today. 
First introduced in 1895 in Berlin and in 1902 in the U.S. in Philadelphia, the automat was closely tied to the post-industrial era and surge in white collar workers in cities. By adding technology and convenience to the lunch counter experience, automats allowed workers to get food quickly in a time before the rise of fast food. At the peak, there were at least 30 automats in New York City, the last closed in 1991. Automat Kitchen modernizes the original concept with a fully contactless and touchless process.
The principal owner, Joe Scutellaro, has been working on it for over a decade. Growing up in Hoboken, NJ, he loved going to automats in New York City in the 1960s. With many fond memories, he wanted to bring it back but update the look, experience and food for a new century. Automat Kitchen's custom hardware and patented software make the process of ordering and pickup seamless. Customers can order in advance on their phone or online, or at the location by scanning a QR code to connect to the menu and ordering system. (There are kiosk screens at the location where orders can be placed without interacting with anyone too.) The order status is displayed on the screens above the cubbies and when ready, the cubby number appears. The guest receives a notification via text to unlock the secure cubby to retrieve their order when it is ready. The automat of the past saved city residents time and money, but by using today's cutting-edge technology, Automat Kitchen offers convenience without sacrificing quality as, unlike the old automat, all dishes are made to order to ensure freshness.
 
Consulting chef Quirino Silva's modern comfort food menu with creative global twists on American classics for breakfast, lunch and dinner, offers dishes like Pastrami Reuben Flatbread; Chicken Pot Pie with vegetables, puff pastry and creamy gravy; Spiced Roasted Cauliflower with turmeric, garam masala, sweet potato, cilantro; Massaman Curry Pot Roast with sweet potato, cauliflower, carrot; Chicken Dinner with half of a rotisserie chicken, black beans, brown rice and spicy sofrito sauce; Atlantic Salmon with Miso Roasted Broccoli and Ancient Grains. Breakfast items like Waffle Sandwich with breakfast sausage, scrambled eggs and maple syrup; Cinnamon Beignets; and smoothies like The Hulkster with kale, avocado, green apples, spinach and spirulina are also available.
 
Automat Kitchen is located at 525 Washington Blvd., Jersey City, NJ; Monday-Saturday 10am-8pm, Sunday 11:30am-6pm; 
www.automatkitchen.com
, 
@automat_kitchen
.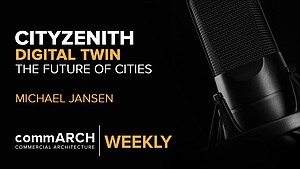 CityZenith's Michael Jansen on Digital Twin & the Future of the Urban Environment | commARCH Weekly 07/2020
In this episode, commARCH has a dialogue with Michael Jansen, Founder and CEO of CityZenith, to discuss the burgeoning landscape ...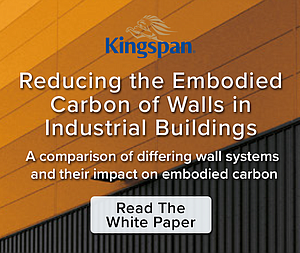 Reducing the Embodied Carbon of Walls in Industrial Buildings
Kingspan partnered with Kieran Timberlake to quantify how Kingspan can reduce embodied carbon in industrial buildings.